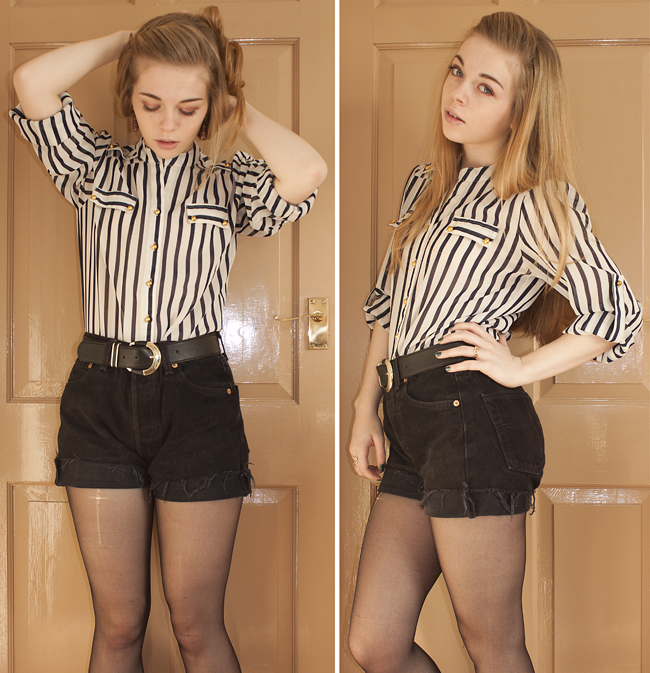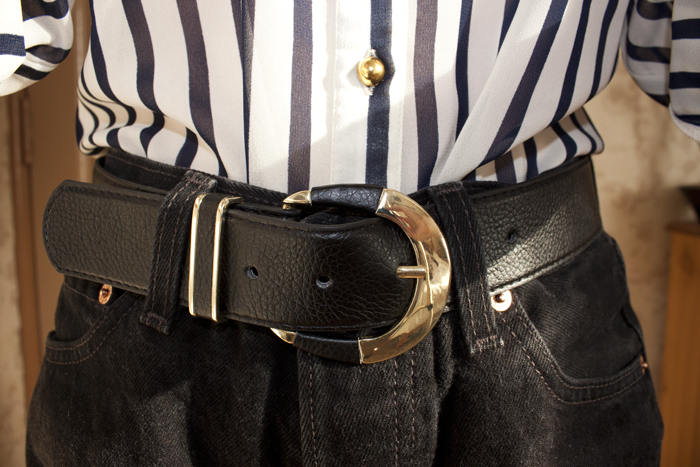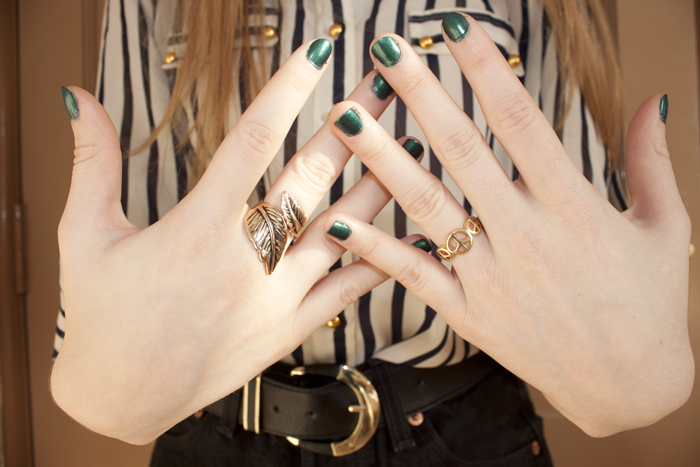 Nude Vest (worn under shirt) - New Look
Shorts - Levis (via eBay)
Rings - Dorothy Perkins and Miss Selfridge
Nails - No7 Stay Perfect in Dollar
Hey guys! Today I tired taking my photos in a different room. My room is north facing, so it never gets any sun and is generally rather dark, but my parents room is south facing and has lots of light. It also looks and feels a lot warmer! So today I took my photos in there instead. What do you think? Do the photos look better?
I went to Lakeside on Thursday with Mum, mainly to take a few things back to Primark, but of course we were going to have a peek around the shops. I ended up buying two blouses from the SS12 collection in Primark and this is one of them! I don't have anything stripped like it and I'm really fond of it. Biggest problem is that the button holes are too small so undoing the shirt is a real nightmare! The other blouse has the same problem. I guess it is Primark though.... The shirt is see through and I'm not a fan of sheer; I don't like seeing girls bra's and stuff, but I bought a nude vest top from New Look to wear under such things. Have you seen the Primark SS12 lookbook? It's pretty good! A lot of the stuff is already in bigger stores now so if you can go check it out :)
I'm also in my trusty Levi shorts. I'm thinking of starting to sell dyed/studded levis/general shorts and I want your opinions on it! But I'm going to do a separate post on that.
Here's the belt from H&M I posted here. I exchanged an XS for a S which just about does up. This belt is really good in the fact that it's a thick buckle belt for your waist, and it does a tiny size for tiny people (ie the XS). I've looked for one for a while but all buckle belts like it seem to be very long as they're supposed to go round your hips! Nice to find one for your waist.
If you read my latest Wednesday Waffling you'll know that I went out a bought a real pair of JC Lita's last weekend. I'm giving them test runs before I do a post on them.
Something that struck me as typical is that, once I'd spent the £108 on the shoes (which are non refundable to Office unless they have a fault. I hate shops that have stupid policies like that) I suddenly need to buy LOTS of things. Not like "Oooooh I want that top" but more like "I need a camera lens for my college work, and film, and paper". Basically important stuff that I do actually need, and I haven't been receiving payments of money from various things that I should have been, so I'm suddenly very out of pocket. It's gotten me kind of worried that I won't be able to afford my train travel up to college, because pay day for me isn't for another two weeks. I need some kind of way to make money quickly to tide me over!