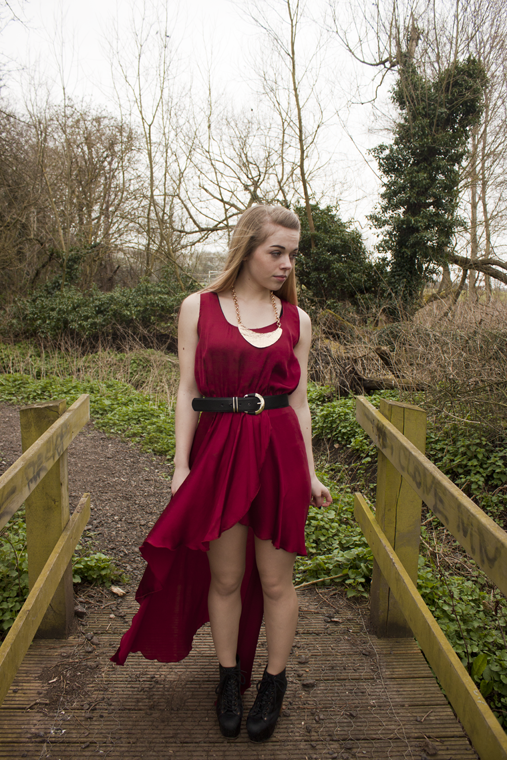 Dress - In Love with Fashion
Necklace - Miss Selfridge
Shoes - Jeffrey Campbell Litas
Hey guys! It's been about a month since I last did a post now, which is a bit crazy. Unfortunately college work got the best of me, but I got that all done, then headed straight out to New York for a week (which was amazing!), then when I came home we had family over until half way through the second week of my Easter holiday. When they went home, I kind of fancied just relaxing and not having to worry about doing anything! Now I'm back to college, and already I've had a tonne of work dumped on me (typical), but I'm going to start posting again. It may not be a lot, but I don't want to stop entirely :)
ANYWAY! This post features a dress from In Love With Fashion, the brand that you can find in Topshop :) I was lucky enough to win it through a giveaway Kim from Sweet Monday was holding (thank you so much!) and I couldn't have been more excited! I'd been lusting over this dress for ages but couldn't bring myself to part with the £48 (plus £4 postage) so when I won the giveaway I did a crazy happy dance and, yeah, was very happy. It arrived really quickly in the tiniest package. I didn't know a dress this big could be folded so small.
It's very long on me, but I'm 5"1 so everything is long on me. I have to wear my Lita's with it all the time. I also had to get Mum to take it up at the shoulders because the body was meant for someone longer than me. Apart from these complications, it's amazing! A beautiful colour, and it just looks so elegant. I definitely feel all flowy and feminine in it :') It also comes in loads of other colours, but probably won't be around much longer so I'd suggest getting in there quick if you've been thinking about buying one.
It's so nice!
I'm still gracing the pink dip dyed hair, but after a month of it I now want to do blue/green. First I have to get my hair trimmed and my highlights re-done, and then get rid of the pink. But I'm super excited for it! I quite like having crazy colours in my hair, considering I've never actually coloured my hair.
My good friend Carrie took these photos for me. I asked her because I didn't think my self-timer method would quite show off the dress the way I want. She also took the photo for my new (but not so new anymore) header! I'm so pleased with it. Thanks Carrie! :D