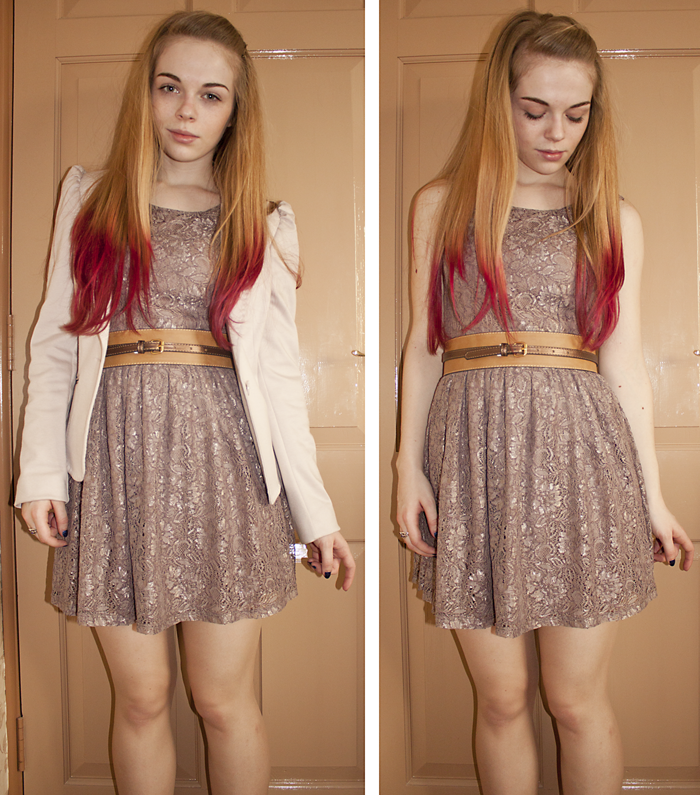 Blazer - H&M
Dress - H&M
7 Denier Tights in Illusion - Marks and Spencer
What's this? Full body photos? Really? But I thought you couldn't do them! Well, so did I! I get very annoyed with my tripod, because I always set it to EXACTLY the same height, but every time is always gives me different variations in how much of me it shows. The lens is always zoomed out, and it's set up at the same distance away from me (I have various markers) but it's always different. So it was a shock when I looked through the lens to see that I could fit the whole of me into the shot! I'm not sure if I'll get this lucky again, we'll see....
Anyway! I'm wearing a lot of H&M here, and didn't even realise until typing this post up. Everything is old stock apart from the shoes which should still be in all stores and the tights which I don't think M&S will ever stop selling. I got the shoes because Lily has been wearing flatforms a lot, and I thought to myself how wonderful they would be. Height without the pain! I came across these shoes and even though they're not flatforms but more wedges they're not too high so I got them. I then went and got them in black too :) It's a shame they're slightly too big for me so I have to wear insoles which almost do it.
I hardly ever wear this blazer but I should do more often. I always can't help but feel it doesn't go with what I put it with, so I swap it for a different blazer. The dress is also something I should wear more of and I don't know why I don't! It's so lovely :'( Maybe now that it's getting warmer I will!
You can see my dip dye a bit better now :) I need to wash my hair but I'm too scared! I know the colour is going to fade dramatically, especially as I have to use Head and Shoulders to please my scalp. I guess I'll just have to see how it goes. Oh the woes of colouring hair! This is probably why I don't normally do it.